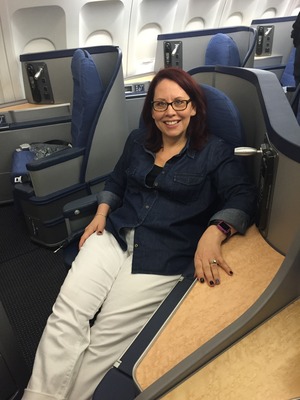 On my recent trip I was checking in online and saw that I could upgrade to 1st class for $50. Yes, please. Great flight, loved stretching out and getting water in a "real' glass. It was all so nice after heading to the airport at 4am.  Head to baggage claim, watch as everyone on my flight gets their bag, but NO bag for me.  What??  How can that be?   My friend who checked her bag at the same time got her bag. OK, keep calm, it will be on the next flight.   Right?

Next step head to the airlines bag counter. I give them my check bag ticket, describe my bag and cross my fingers. I get a form that tells me I should have my bag in the next 24 hours and can check status on their website. I post my concern on twitter and get a quick response.  But 24 hours later, NO bag.
OK, now I am getting concerned, especially when I check the status online and it still only says checked in at Charlotte. I have to now confess something. You know that saying, Practice What You Preach, well, let's just say I did not follow my own advice. I did not have travel insurance on this trip. I carry a yearly policy that is offered to travel professionals and it needed to be renewed. Being busy I did not get around to it. Lesson learned!
After 24 hours, airline policy is to assign a "baggage specialist" to my case and they will check in periodically. Day 2 nothing, Day 3 nothing.  Now I am thinking about everything in my bag, the cost to replace it all and a very special ring that I will not see again.   A trip to Target to get some clothes and toiletries to get me through the rest of the trip, $200 spent.
Day 4,  I finally get a call from the "baggage specialist" asking if I got my bag.  Uh, wouldn't you know if I did? She asked me to describe the contents, bag etc.  so she could put out an APB and hope we get a hit.  I cross my fingers and put out good thoughts for its return.
Day 5, getting ready to check out and get a call.  They FOUND my bag.  It was in Arizona. Arizona??  OK, I don't care I just want it back.  It is on its way to me in Orlando.  Oh no, I am checking out.  They divert it and it will be delivered to my home. Fingers crossed. We hit Philadelphia airport and as we are walking by baggage claim I decide to double check on my bag.  As I am talking to the baggage rep my son comes running to me pulling – MY BAG. Yes, it was on my flight back from Orlando.   Better late than never, lesson learned and so happy to have my "stuff".
How can you help avoid this happening to you?   
Make sure your luggage is labeled — both on the inside and outside with your name and contact information. I also suggest putting a ribbon, special luggage tag, something to make your bag stand out.
 Take a picture of your bag, and keep on your phone. Many bags look alike, knowing exactly what yours looks like can really help.
Always carry keys, medication, valuables (including jewelry or electronics) with you in your carry-on.
Travel Insurance – buy it.  Again, we always think it can not happen to us.  For a few dollars you can be covered.  Also you will have more coverage then the airlines offer.
GPS tracker – There are many different options out there, like Tile. You can put in your luggage.  Here is a great review of some options.
Most importantly, is to report your lost bag immediately to the airlines baggage office, which should be located in the baggage claim area.  Get a case number and information for you to continue to track your luggage once you have left the airport.
What are your rights?
If an airline loses or damages your bag and you file a claim in the United States, the Department of Transportation requires that the airline compensate you for the value of the bag and its contents, up to a maximum of $3,300. If you file a claim overseas, the Montreal Convention regulations apply; these stipulate that airlines provide up to $1,131 in compensation.
If you have to purchase clothes, toiletries, medicine, etc then the airlines can compensate for those expenses.  However, how the airlines choose to pay this stipend is largely up to them. Delta, for example, provides $50 a day for up to 5 days, while airlines such as American reimburse passengers following the presentation of receipts for authorized "reasonable expenses." At what point a delayed bag is considered "lost" is not regulated by the DOT, but for overseas travel it is 21 days after landing.
If you're checking possessions valued in excess of an airline's standard compensation, and you do not have travel insurance you can ask to purchase additional coverage at check-in. Some but not all airlines offer this insurance, so it's worth requesting if you're checking high-priced items. United sells insurance at the one-way rate of $1 per $100 of coverage, up to $5,000.
Hope you found this helpful.  Here is to NO more lost bags.
P.S. Would you like to stay up to date with our latest family travel tips and information on the newest family resorts, destinations and more?    Click the button to enter your Name and Email address.  To say  Thanks  we will also give you FREE access to our Ultimate Packing List.