To kick off our summer the boys and I headed to the Liberty Science Center last week.  It is a great way to spend an afternoon and the boys always have a great time.  We were there a few months ago to check out the Avatar and Curious George exhibits, which were awesome.  So we wanted to check out their new exhibits: Grossology:  The (Impolite) Science of the Human Body and Block Party .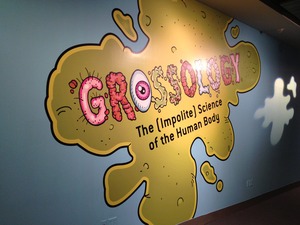 The Grossology exhibit is a lot of fun and the boys loved it. All I had to say was that we would learn about farts, boogers and belching among other things and they were hooked.  What I really enjoyed was all the great interactive exhibits which made learning fun.  Since the boys were able to interact and be a part of each station, it kept their attention and they wanted to learn.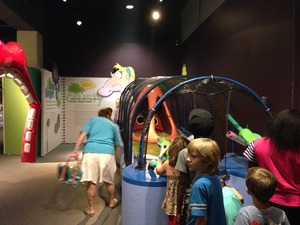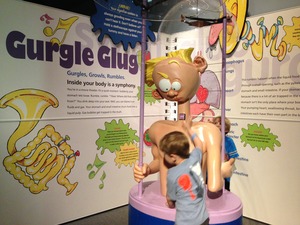 When you walk in to the exhibit the first stop is about Boogers.  But of course, all my boys saw was that it has an air cannon to shoot the boogers up the nose.  Then we headed over to push the buttons and learn all about those noises our stomach makes.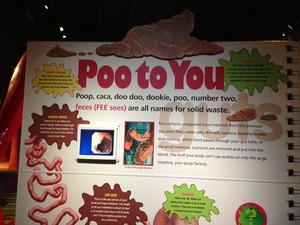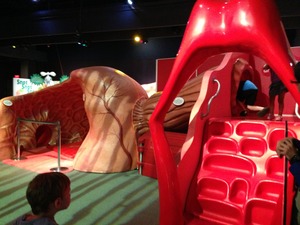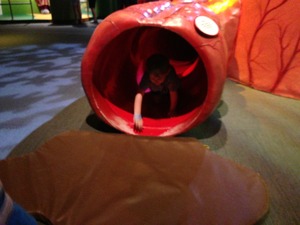 I have to say I liked the 3D Digestive Tract.  You enter the mouth, down the slide to the stomach and then through the colon and out.   I enjoyed telling the boys where they were coming out.   Ewwww.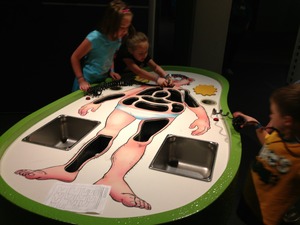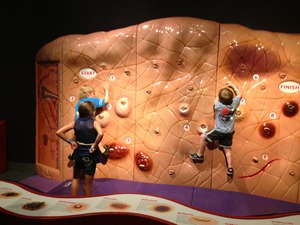 After the digestive tract we checked out the Operation table. The table has rubber bones and organs.  We tried to see if we could put them in the right place.  Again, a fun way to learn.  The boys then hit the Human Skin wall, full of warts, zits and more.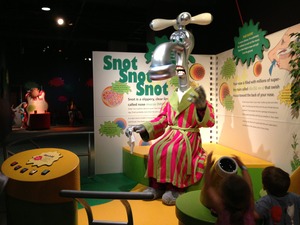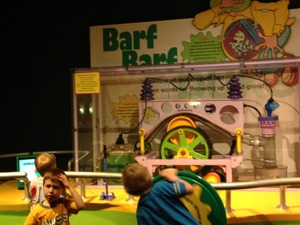 After the skin wall, it was on to learn about snot and a runny nose.   As well, there was a machine to show you how the body works when you barf.   In this area there is also a game you can play against other guests to check out what you have learned.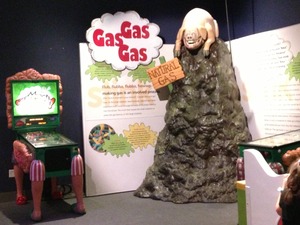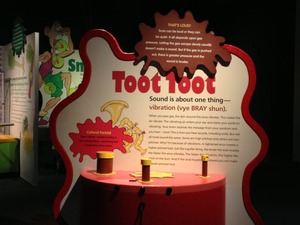 Not to be left out of course we had to check out the gas and fart area. You can make all kinds of lovely noises with the exhibits.  There was lots of laughing going on in our group.  Overall, it is a very fun and educational exhibit.  I am going to the library to check out the book on which this exhibit is based.    This exhibit will be at Liberty untilSeptember 2. So you have plenty of time to check it out.
Also make sure to check out the Grossbusters show.  It is a play that is put on several times through out the day.  It is of course based on Ghostbusters.  My boys always enjoy the shows at the science center.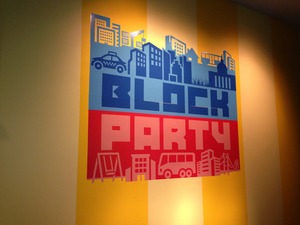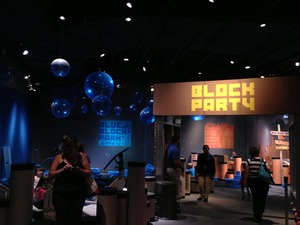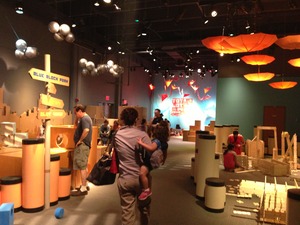 Next it was on to the Block Party.    My boys love building forts and working with their Legos, so this was a great exhibit for them.  They could have stayed in there for hours. The block party is made up of 4 different play areas:
Imagination Playground which has over 250 foam shapes kids can use to build whatever they want.   As you can see, even the parents got in to the action.  It was nice that they had chairs for the adults to relax while the kids play. They suggest this area is best for kids 6-12.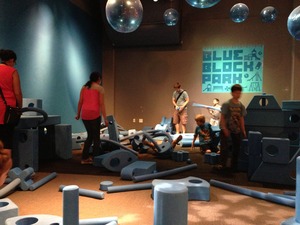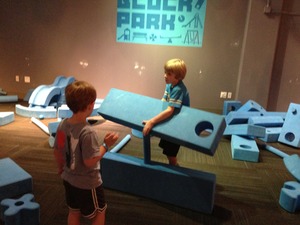 Thinker Linkers is another area that has over 700 notched wooden boards. The boards come in different sizes and link together.  They were easy use and the boys really liked building with them.  Again, the suggested age for this area is 6 and up.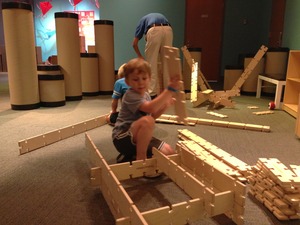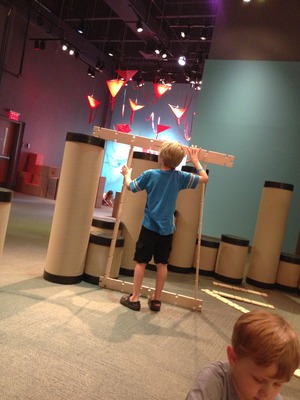 Creative Cardboard is an area for all ages. They have a fun tunnel for the kids to crawl and explore.  As well there are different sizes of cardboard boxes to build and add to the tunnel.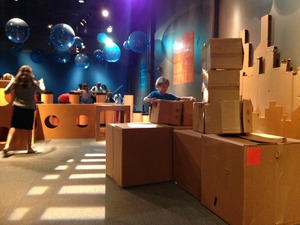 Building Blocks – Tot Lot is an area for kids 5 and under.  This area has over 600 wooden shapes, which included arches, triangles, blocks, figures and more. The little ones can really create in this area.
So as you can see these 2 new exhibits really have a lot of great areas for kids to learn and have fun.  As well, with 4 floors there is plenty to see and do.  My boys really like the Slot Cars which run on solar power in the Got Power Exhibit as well as the Touch Tunnel.  ​The tunnel is a maze that is in the dark where you can crawl and feel your way out.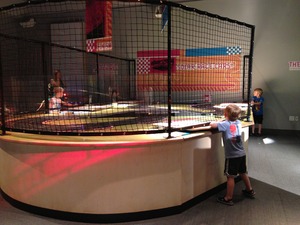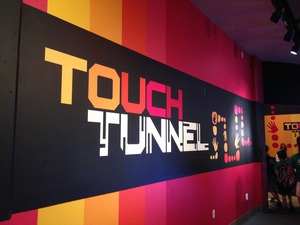 Along with all the other exhibits you can enjoy the Imax and 3D Theater. You do have to purchase an additional ticket for the theater.  In September, you will be able to check out the new  Bob The Builderexhibit.  It is great that along with the permanent exhibits there is always something new to see.
Overall, the Liberty Science Center is a great way to spend the day.   There are so many great exhibits, shows and ways for the kids to interact and learn.
P.S. Would you like to stay up to date with our latest family travel tips and information on the newest family resorts, destinations and more?    Click the button to enter your Name and Email address.  To say  Thanks  we will also give you FREE access to our Ultimate Packing List.