A few weeks ago the boys and I headed in to New York City to see The Art of the Brick at Discovery Time Square.   It is a great show that combines art, design and of course Legos.   The artist Nathan Sawaya known as the Brick Artist, has taken his love of Legos and created some amazing original pieces of art and sculpture.  As well, he has re-created masterpieces like Van Gogh's Starry Night in Legos.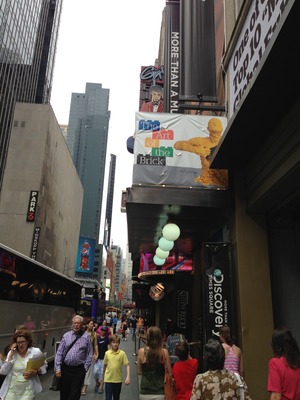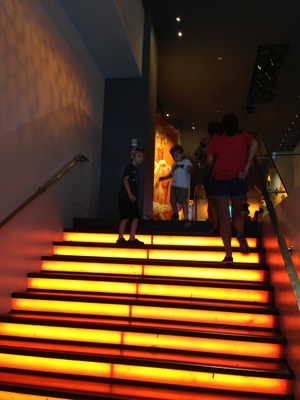 The Discovery Times Square is located on 44th, between 7th and 8th,  in the heart of Times Square. We drove in and it was not too bad. I always get a parking coupon when I am driving in to the city.  Icon Parking has coupons for most all their locations in the city.  As well, if you don't want to deal with NYC traffic, you can take the NY Waterway Ferry over from NJ and then the free bus in to Times Square.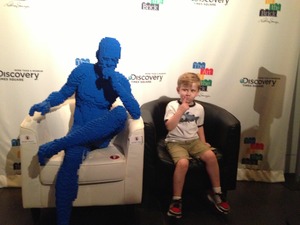 We headed in around mid morning to miss rush hour traffic and to have lunch in the city.  Since we were in Times Square we had to head to John's Pizza.  It is a favorite.  Also, it is great since it is right down the block from the Discovery Times Square.
Before heading in to the city to see the show I would suggest that you buy your tickets in advance. They will ask you for an entry time.   Prices for show are $22.50 for Adults and $17.50 for kids (4-12).   I did not see any coupons available when we went, but I suggest doing a google search before you buy just to see if you can save a few dollars.  I think for the size of the show the ticket price is a bit high, but it is Times Square.    Also, there are 2 other shows at the center you can check out as well: Shipwrek: Pirates & Treasure and Body Worlds: Pulse.  You can purchase combo tickets.
They did not let us take photos of the exhibition, but we actually saw an exhibit of some of these pieces at the Morristown Museum last year.  Along with some amazing new pieces, were many of the same ones we saw, like these: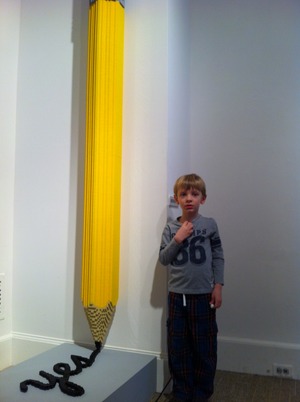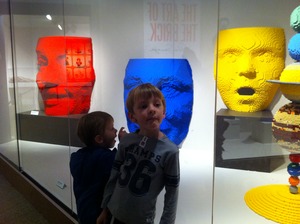 The boys really enjoyed the exhibit, their favorite was the Dinosaur sculpture.  I enjoyed all the re-creations of the masterpieces.  I think the boys are still a little too young to understand why the masterpiece re-creations are so great.  But, it was nice to have a discussion about art and being creative.  Being creative it why I love Legos,  I like to see what the boys create on their own more than the actual Lego you are supposed to create from the box.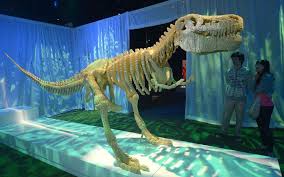 As well if your kids like to be creative with Legos, there is a contest.  At the end of the exhibit, there is a display of Lego projects created by folks just like you.   You just need to submit a photo of your creation by August, 19th.  They winning creations will be on display fromSeptember 16th thru January 5th, 2014.  Just click here for more details.
The Art of the Brick exhibit is worth the trek in to the city.  The exhibit itself is not too big, so really you can do it in an afternoon.  As well, it can be a stop on your day in the city.  Get some lunch at John's Pizza, as well if you are brave you can head over to Toys R Us and ride the ferris wheel.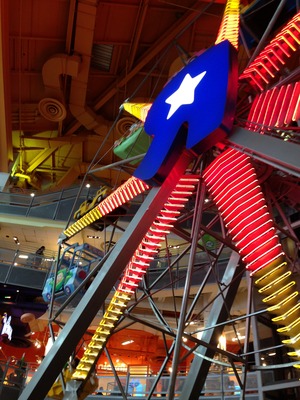 P.S. Would you like to stay up to date with our latest family travel tips and information on the newest family resorts, destinations and more?    Click the button to enter your Name and Email address.  To say  Thanks  we will also give you FREE access to our Ultimate Packing List.